A few years ago the amazing people at Doc Johnson (the worlds #1 manufacturer of adult toys) thought it would be an awesome idea to mold my vagina and other body parts, put them in a box… and sell them to the general public (the line is here).
I get tons of questions about my Doc Johnson line…. so here's everything you could really ask (if I miss anything let me know!).  If you do get a toy, consider coming to a Vickyathome.com live camshow where you can use it with me online live (I do interactive camshows weekly free for members where you can turn on your cam so I can see you too… how kinky is that?!?!).
If you don't know what a handheld "male masturbator" toy is… it's an exact handheld replica of a body part that you can "use" to simulate having sex with it.  They are REALLY popular. Guys usually hold it, apply a bit of lube, imagine slipping their cock into my vagina, ass or mouth… and then jerk off with it. By the way… if you are a couple… the masturbators are fun to use together too!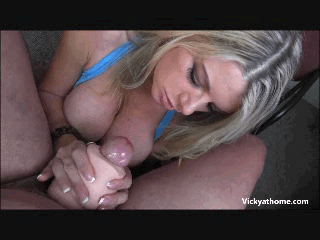 Anyway… here's everything you need to know…
1. "Vicky… Are Your Toys Really Molded From Your Pussy and Ass?!" 
The number one thing people want to know is… "was it really molded from you?!"  100% yes… my Doc Johnson products were made by carefully applying "goo" to my ass, tits, mouth and vagina. What is that goo made of? Even Doc Johnson would not tell me because it it top secret but the process is patented and texture VERY lifelike.  Yes… there are SOME lesser products on the market where they slap a girls picture on a box with a product that looks like a vagina. NOT MINE!  I guarantee my Doc Johnson products came straight from my body.
Here are some actual pics for you to check the process out as the molds were being made…..
2. "Vicky…..is it cheap Chinese Crap?" ….NO WAY!!
The second question I usually get is… "Vicky… I am tired of the cheap Chinese crap that falls apart when I jerk off with it or stops working… where did your toys get made?"  A LOT of toys you see in the stores and online are well.. crap. Cheaply made stuff that is made in China and shipped here. I am happy to say that my toys are all made in the USA (the factory is in North Hollywood). The molding process and materials used (UR3) are patented and award winning. I rarely get any complaints other than… "I think I wore out your toy and am going to buy another!"  Doc Johnson products are recognized as probably the top in the adult business. I use their toys like vibrators and strap ons in a lot of the videos that I do.
3. "Vicky – What Toys Are Available?!" … Currently 4… soon 5!
The Vicky Vette line can be checked out at Doc Johnson here and currently consists of
a. The Vicky Quickie (my vagina)

b. The Vicky Quickie BJ Sucker (molded from my mouth with a cool vibrator you can turn on to simulate my lips around your cock)

c. The Vicky Quickie Double Ender (my vagina AND ass in one handheld masturator depending on what mood you are in).
d. The Vicky Vette "Love Doll" (a blow up doll with my face on it and 3 "convenient" holes to stick your dick, fingers or tongue).

… also on the way is an all new toy the Vicky Vette/Mia Malkova Kittens & Cougars toy (my vagina with Mia's in one toy depending if you want to fuck a cougar or a hot young star.  My tits were molded too (see the pic) but Doc Johnson has not released them (boo hoo). If you'd like get my tits, let @TheOriginalDoc know so maybe they will release them….
4.  "Vicky… is it actually lifelike and will it get me off?!" ….Yes! Of course!
My molded toys were made with patented UR3 technology. I have asked the members at my official site Vickyathome.com who bought the toys what they thought. They have all told me that the toys get them off and they feel great. If you have bought the toys, feel free to share your experience in the comments! I honestly have not had any bad comments. The color of the pussy lips sometimes does fade but unless you abuse my vagina.. .it should hold up…  I usually recommend using a water based lube (the products come with a sample pack). Lube makes the jerking off experience smooth, easy and very erotic. The products are light weight so you can take them on a trip or put them in your brief case in case you want to pound my vagina (ass or mouth) in the work restroom or at Starbucks.
5.  "Vicky… I need to jerk off right now… where can I get your Toys?!"
The toys are available online just google "Vicky Vette Sex Toys". You can get them from Doc Johnson directly here, Amazon and tons of online vendors. They are available at finer sex shops. If you local sex shop doesn't have them, ask the nice people behind the desk to order you a Vicky Vette toy from Doc Johson. You can also get signed copies from me personally in the mail from my store here. I also bring my toys to conventions like Exxxotica or Adultcon so fans can meet me and get them straight from me. Here are some pics from conventions… with fans and even stars like Jelena Jensen and Evan Stone having some fun.
6. "Vicky.. once I jizz in your vagina how do I clean it?!?!?"
All of my Doc Johnson toys can be cleaned the old fashioned way… with soap and water.  It's quick and easy…
7.  Vicky… please tell me more… I just want to jerk off to videos of you speaking in clothes about sex toys!"
I have more YouTube videos on the way but here are a couple of YouTube videos I made of the Vicky Quickie vagina and the BJ Sucker. Man up.. order the toys and let me know what you think after you get one… comment me here, DM me, let me know on the members forum what you think or tweet me. @TheOriginalDoc is also happy to answer questions!
xo Vicky
Commander in Briefs
Vette Nation Army Girls (VNA)
Vickyathome.com

Here's a video of me on Playboy TV discussing the line…