I've been shooting adult movies since 2003.  Video cameras then were far less complicated. The 'top of the line' wasn't even HD. When HD came along, I was resistant. Who wants to see every pimple and imperfection up close… especially on a woman? It will ruin "beauty" and "fantasy". After holding out against HD we started filming in that format and… it was better (and I regret waiting a year to dive in). For years we shot in HD and I thought we were done with more 'resolution'.
So now we have 4K…. 4K??! If HD is amazingly clear at 1920 x 1080…. 4K videos are twice as clear and twice the resolution.  TVs are now 4K and like all things I figured it was a matter of time until porn lovers everywhere wanted 4K rather than HD…
So…..rather than wait, I am happy to say we got a 4K camera.  Phew… I am glad to say that flat out it's some of the best footage I have ever shot. We are now shooting exclusively in 4K. The resolution is amazingly nice and the pictures we are able to make using that footage not kick ass but sometimes are better than what comes out of a still camera. We shot in 4k with Mia Malkova (video coming), 19 year old babe Bella Rose (videos up) and also with latex queen Rubberdoll.  4K all the way….and if they start making 8K cameras we will try those too!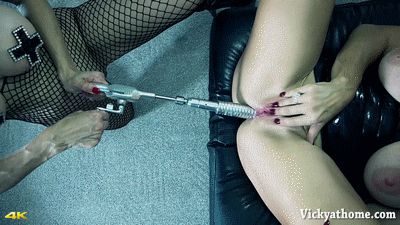 I like to think that the 4K  Rubberdoll video "Drilled in My Ass" is one of my hottest girl/girl movies yet…  and imho it "looks" amazing and is one of my most hardcore g/g videos ever! If you don't know Rubberdoll, she is a fetish latex with big tits that I have known since 2011. She recently joined the VNA Network with us (you get her website free when you join mine).  She has amazing costumes. Our newest (and perhaps best) video along with all the BTS and hundreds of high rez has just been released on Vickyathome.com. "Drilled in My Ass" has a LOT of super hot action including spanking, high heels, fishnets, a whip, oil and…. a drill… yes… a drill… in my ass!  The members here LOVE the new video and pics. Join today and let me know what you think on the members only forum!
Below are some more exclusive GIFS from the Rubberdoll video and here is an exclusive pic from the hundreds on the site…
Hope to meet you inside…
You currently get 28 websites free with your membership PLUS
Live shows free every single day… 365 days a year… the best deal in porn!
Join the VNA Network.. where fans become friends…
Got any questions? Feel free to comment me here or hit me up on twitter…
Vicky Vette
Comander in Briefs
Vickyathome.com
Vette Nation Army Girls Network