The October 2012 VNA News Magazine
October 2012
This month we have two covers one normal and one to celebrate Halloween.
and our normal monthly magazine cover.
What's New(s) in October?
Sara is backpacking through Europe. She's in Spain, France, Belgium, Germany, Holland and England. Julia's 43rd birthday. Puma is back in Sweden for the official release of her biography. This month it's Shanda who gets her boobs done. Red Light Center and Vicky announced that she will be the spokesperson, host fan events and you can have cybersex with her! Bobbi is at the Venus Expo in Berlin. Next is the woman that always seems to be in the news, Nikki. BenzMafia Part One release, Halloween Party at the Diving Horse in Atlantic City. Plus, she's hosting Brazzers Live 29. Gabby: "A weekend without sex is like having corn flakes without the milk". Charlee wins her first award ever at the Nightmoves Awards 2012, for best boobs. Deauxma has an all new Texas inspired website. Francesca presents "Pussy Perverts" & "Real Estate Sluts". Carmen fucks a glow in the dark dildo. Angelina gets dressed up for her camshows and seems ready for Halloween.
Twitter Ranking / Analysis
1 = 06/25/12
2 = 07/25/12
3 = 08/25/12
4 = 09/25/12
5 = 10/25/12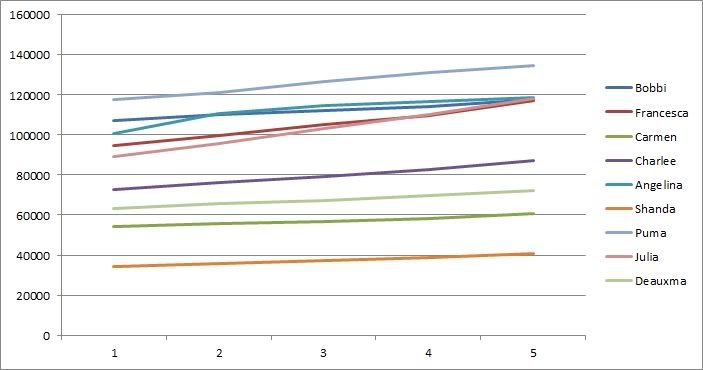 Twitter followers % between September 25th and October 25th
1. Julia Ann ( + 7 %)
2. Francesca Le ( + 6.6 %)
3. Vicky Vette ( + 5.8 %)
4. Charlee Chase ( + 5.3 %)
5. Shanda Fay ( + 5.1 %)
6. Gabby Quinteros ( + 5 %)
7. Nikki Benz ( + 4.6 %)
8. Carmen Valentina ( + 4.5 %)
9. Sara Jay ( + 4 %)
10. Deauxma ( + 3.7 %)
11. Bobbi Eden ( + 3.1 %)
12. Puma Swede ( + 2.7 %)
13. Angelina Castro ( + 1.7 %)
Cumulative % as of June 25th
This month – (Last Month) – Name – Percentage
1. (1) Julia Ann ( + 32.7 %)
2. (4) Nikki Benz ( + 24 %)
3. (5) Francesca Le ( + 23.6 %)
4. (3) Sara Jay ( + 22.5 %)
5. (7) Charlee Chase ( + 20.1 %)
6. (6) Shanda Fay ( + 19.4 %)
7. (2) Angelina Castro ( + 18 %)
8. (8) Gabby Quinteros ( + 17.8 %)
9. (13) Vicky Vette ( + 15 %)
10. (9) Puma Swede ( + 14.5 %)
11. (10) Deauxma ( + 13.9 %)
12. (11) Carmen Valentina ( + 11.6 %)
13. (12) Bobbi Eden ( + 10 %)
Page 1
Bobbi At Home
Our second meeting in nearly two months. For the third time this year Bobbi Eden is back in Holland and the VNA News Magazine jumped onto the train to catch up with the woman who recently relaunched bobbiedenlive.com. Short report of the Kama Sutra 2012.
Why travel far when you can see VNA girls nearby. Yes, we missed Nikki Benz feature dancing in Canada, Puma's television and radio appearances in Sweden and the Nightmoves Show in Florida, but Dutch girl Bobbi is back in town to visit the Kama Sutra, among other things. Where Adultcon is the place to be to meet stars, this Festival kinda thing in the center of Holland (Utrecht), is an event where couples, singles, old, young, men and women show off and most importantly, have fun.
Picture the Adultcon hall in Los Angeles, but then much more dressed up and one very bright colour all aroud; red! Left and right the usual stands filled with toys, lube, clothes and lingerie. Plus, the SM corner that obviously doesn't need further explanation, the sex labrinth in which random visitors meet and have sex and the 'Meiden Van Holland' booth, to the VNA members known as network that aires "Bobbi In The USA".
The other international star besides the girl we're here for is Ron Jeremy. Just two months ago we stumbled in on each other in the US, now he flew overseas. Jeremy is here to promote his drink, Ron's Rum, and it's a good opportunity for Dutch people to meet the self proclaimed legend. One guy wants a picture taken while he has a finger pointed to the spot where his weapon of mass destruction is being hidden. Few steps further, Bobbi; the girl more beautiful than a rose or typical Dutch tulip, for that matter. Our first meet and greet this afternoon goes by fast. People are standing in line to get an autograph, a chat, to buy a poster or a pair of her just released underwear line for men "Cock & Balls". Crowded, to say the least. She's the main attraction for 3 long days. At 6pm we head to the mainstage where all day long performers, some more known than others, do their thing. But once Bobbi goes all the way on Steel Panther's 'Weenie Ride', the moment of passing out is closer than inhaling fresh air. Hot with a capital H! More on that can be seen in the earlier mentioned TV show.
Closing time for this edition of the Kama Sutra. We chit chat about how busy and long the weekend has been, dentist appointments and feet that "hurt like hell man". Then out of a sudden a moment of intimacy occurs between both Edens. Satisfied and happy they give each other a big kiss on the lips. Love is in the air and all you need is love. This Festival takes places twice per year. Next one will be late January. If you're living in the UK, Belgium, Germany or further away and don't mind traveling far and you want to meet a VNA girl, don't hesitate to make the trip. Come by and say "Hi".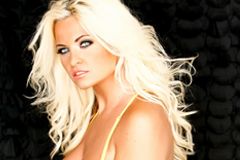 Page 2
The winner is …
AVN Awards, Xbiz Awards, Miss Freeones. If members aren't busy enjoying camshows or watching recent updates, they vote! And all that voting paid off. Winners of the Nightmoves Awards. Who won what?
October 7th was the Sunday the 20th annual Nightmoves Awards took place in Tampa, Florida. One of the longest running awards events which had categories divided into Fan's Choice & Editor's Choice. Hosts Tony Batman and Prinzzess Felicity Jade, performances by East Coast Hard Bodies & La Teaze, directors and lots of hot women. Including Sara Jay, Vicky Vette, Gabby Quinteros, Carmen Valentina, Angelina Castro and Charlee Chase. It's a little over 3 months ago that Charlee started to send tweets into the world wide web about her nomination for "Best Boobs". Most intriguing part of those tweets, besides the obvious, was the message that it'd be her first award ever. Not an easy task with competitors like Puma, Vicky, Sara. On that Sunday Charlee did win "Best Boobs", but it's Sara Jay that got Fan's Choice.
Hostess Prinzzess didn't only go on stage to make an announcement from time to time, but also won "Best Feature Dancer" (Editor's Choice). She was unable to fight BenzMafia though, our own Nikki Benz took Fan's Choice. Host Tony Batman (where was Robin?) & VNA commander Vicky Vette are Hall Of Fame Inductees, while the Norwegian also won in the category "Best Social Media Star" (Fan's Choice). Two and a half months after klout.com named her one of the most influential adult stars in the world, it was no surprise at all that she had won that award.
Other winners worth to mention are Riley Reid for "Best New Starlet" (Editor's Choice). Tanya Tate for "Best Milf Performer" (Editor's Choice). Asian Asa Akira, alongside Jesse James at AVN's upcoming show in January, won the award for "Best Ass" (Editor's Choice). And last, but definitely not least, VNAGIRLS.COM; "Best Multi Site Network" (Fan's Choice). Overall, a happy ending of a weekend with Fan Fests in the Tampa Area where fans met their favorites!
Page 3
VNALINE
Special Thanks to Vicky, Monica, Rebekah and Louise with out there help we would not of had these.
Page 4
Page 5
Page 6
So as you can see it's been a very busy time, thats it for this months issue. Enjoy.
More artwork from this Months Issue can be seen on the VNA Members Board.
Have a great Halloween until next month.