The August 2012 VNA News Magazine
Shanda goes live on Friday 17th to glow in the dark. Julia is in Missouri for a scheduled signing. Deauxma spends a week in the Dominican Republic to enjoy the International Swingers Convention. Bobbi sees Kiss & Motley Crue live. Nikki & Puma (Swenz) are in Madrid and Barcelona. Four Gasp, Gag & Gape updates on francescalive.com; Remy LaCroix , Francesca Le, Jada Stevens, Liza Del Sierra. Vicky has been ranked most influential adult star in the world by Klout.com. Gabby already has over 350.000 Twitter followers. Sara & Angelina round up TeamBJ 2012. Charlee appears on Fetishcon. Carmen is on the cover of 'Easyriders' magazine.
Twitter Ranking / Analysis
1 = 06/25/12
2 = 07/25/12
3 = 08/25/12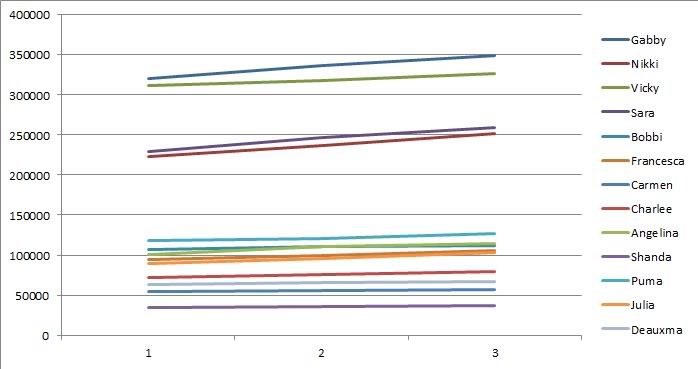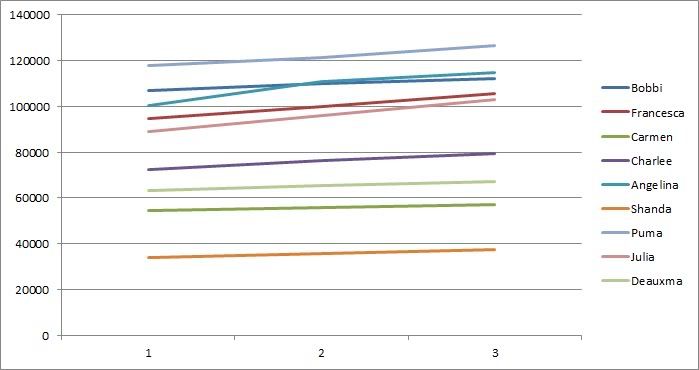 Who gained the most followers in % between June 25th – August 25th?
1. Julia Ann ( + 15.8 %)
2. Angelina Castro ( + 14 %)
3. Sara Jay ( + 12.8 %)
4. Nikki Benz ( + 12.4 %)
5. Francesca Le ( + 11.2 %)
6. Shanda Fay ( + 9.5 %)
7. Charlee Chase ( + 9.3 %)
8. Gabby Quinteros ( + 8.8 %)
9. Puma Swede ( + 7.6 %)
10. Deauxma ( + 6.2 %)
11. Carmen Valentina ( + 4.9 %)
12. Bobbi Eden ( + 4.7 %)
13. Vicky Vette ( + 4.6 %)
Let's Talk About Sex
Don't you just love it when Carmen Valentina takes off her clothes? And when she lets you decide what toy she should use? We bet you like it even more when she starts to talk dirty Let us know if her show in words is as spicy for you as it was for us. The Queen of dirty talk in action.
[7.10pm] "I thought I'd do a little pink show today, I got pink booty shorts. I think I've been talking too long, let me take off my top". (Cute giggle) "Show some nipples. I got pink toys today, it's all pink. Pink always looks good in my tight little pink taco. Oh, it's ten after, I always have my panties off by ten after. There you go, here's some booty. And a nice, yummy yummy pussy. Now I'm all naked, yay!" (slaps on her booty, hard … Carmen sticks her finger in the middle)
[7.14pm] "Mmm, I get nice and horny for you. Fuck yes. Ahhh, I love that fucking cock of yours deep down in my fucking pussy. My tight little nice wet fucking pussy. Mmm, fuck yes. Aaaahh. Shove that cock of yours deep in me. Ooooh, fuck yes! Aaah, I love that cock in me. It feels so fucking good. Fuck yes. Fuck me good. Getting a nice juicy wet pussy for you guys. I can't wait to lick that pussy juice of your cock. Feels so good, sliding in and out of that pussy. Time to double the toys".
[7.21pm] "Wrap my legs around you as you pound your fucking cock deep in me. I love being that dirty fucking slut for you. Fuck yes. Fuck me nice and hard! Mmm. Keep pounding that cock deep in me, balls fucking deep in that fucking pussy. Play with it all fucking day and night long. Shove that cock deep down in me and give me a good hard fucking pounding. Make that fucking pussy squirt all over that cock of yours and lick all that pussy juice of you. I wanna taste that cock. Time for some booty". (slaps on her booty couple of times, really, really hard!)
[7.28pm] "Pound the fuck out of my pussy. Make that fucking pussy sore, make it sore until next week. I wanna feel that cock, make those fucking knees shake. Ohhh, God, I love that cock. Don't you ever take that fucking cock out of my pussy. I love being a naughty little girl for you. Slap that fucking ass for me" (Ouch, Carmen slaps on it again!) "I wanna hop on that dick of yours and never stop fucking it. Just flip me around. Let me be your little spinner and spin me around on that juicy hard cock of yours. Ooooh, you like that? There you go, time for some cowgirl!"
[7.35pm] "Bounce that fucking ass on top of that cock of yours. Give me that fucking big juicy cock. I never wanna get of it, feels too fucking good in my pussy. Ooooh. You like that pussy on top of your cock? Me fucking it nice and good. I can bounce on this cock all night long, all day long, I never wanna stop bouncing on this juicy cock of yours!" (Carmen then shakes her booty as if she's applying for Kanye West's new video)
[7.41pm] "Time for the Grand Finale. Nice good dick inside of me. Fuck yes. Smack that ass and grab it nice and good … can't wait to sit on that fucking face and shake my ass while your face is in my fucking pussy and licking it up good. God, I'm so fucking horny today. Yeah, I love that fucking pussy being played with. Torture that pussy on that nice, fun dick of yours. I love being that naughty little dirty girl for you. Your own dirty fucking slut". (slap, slap, slap) "Time for some Hitachi action".
[7.48pm] (one pink dildo inside and the Hitachi on top of her clit) "This is where fuckibility comes in handy. Oooh, shit. Pound that fucking pussy good, don't you stop fucking it. This pussy is getting so fucking wet. Aaahhh. Ooooh. Fuck…. Yes!" And from that moment on, we see Carmen Valentina squirting, making her whole bed wet. If you think men can spray far, you haven't seen this! "Gold Medal, yeaaah!"
Ofcourse, these are just SOME highlights of her weekly show. You can see it all LIVE for yourself, every Wednesday at 7pm est. You can hear her moan, hear her scream, hear her cum. And don't forget, Carmen loves it when you cum with her!
Page 2
The American Dream
Ten VNA women, seven members, five days LA, three days 'more pornstars than you can handle' and one last look back at Adultcon 2012!
"Ladies and gentlemen, we've reached Los Angeles International Airport. Thank you for flying with KLM Airlines and we hope you enjoy your stay". Well, here it is; California. The place where it all happens and this weekend Adultcon will take place. After passing the men and few women of the US customs and border protection and getting the baggage, we meet VNA members Walt and Fused. The first one is so kind enough to take us to the hotel as we're the type that'd even get lost on the Walk of Fame, let alone making the way to downtown LA by ourselves. The JW Marriott Hotel is our residence for the next five days. Checking in goes very smoothly and the elevator which a keycard is necessary for stops at the ninth floor. Eyes are in conflict of where to look when an extraordinary room comes in sight. Large tv, huge bathroom, exquisite bed. We pinch an arm, but then it's time to hit the road with the LA Convention Center as final destination. Where VNA's own military assault vehicle comes riding in. Rokkerr (Vette) and Marq (Eden) take pictures and walk around as a dog with two dicks. It was found on the world wide web, some guy wanted to sell it, rokkerr decided to rent it. Throughout the weekend lots of pictures for the girls' websites will be taken in front of this mindblowing machine.
Happy Friday! The day starts with strawberries, orange juice and 'Good Morning America'. It gives the latest on Robert Pattinson and Kristen Stewart. Two young movie stars who became famous thanks to Twilight. They developed an intimate relationship, but now one of them slept with another. So? Uhm, isn't this Hollywood? At 4pm several pornstars are observing the gathering of VNA members Walt, Fused, Gert-Jan, Kisha, Mike and Connie, the last two all the way from Canada. It's remarkable to see that this network is so popular that not only do people come from the US, other countries as well. Even from overseas! In the middle of West Hall B there are numerous cars, nothing beats 'our' green thing though. Arriving at the booth, Vicky and Bobbi are welcoming us to this already legendary weekend. While Fused spends all of his time to find out how tiny Gabby Quinteros really is and Gabby Quinteros spends all of hers pleasing Fused, we get the arm of member Kisha around us. She's from the East, North Carolina. It's this lady lots of time will be spend with the upcoming two days. After meeting several people and discovering the complete booth, we walk around and see Julie Cash, Mistress Hannah, Taylor Wayne, Raven Bay and two of many Asians; Evelyn Lyn and Aja Chachanhsy, who's most likely the hottest redhead behind urban music sensation Rihanna.
Angelina, Sara, Gabby, Bobbi, Fran, Carmen, Vicky and Puma are in the house. Julia Ann isn't gonna make an appearance today, she's sending out a tweet to 96231 followers saying that she's not feeling well. In the evening Charlee Chase joins the party and Walt is first to welcome her to the convention. All the members in the C2C room are witnessing his hands on two beautiful breasts for quite some time. Charlee left her real balloons and puffy jackets at home, but her presence here gives us a ticklish feeling.
Happy Saturday! What's new? ABC, NBC and Fox spill juicy details on Katherine Jackson who will file for joint custody with the King of Pop's nephew, TJ Jackson. "In a bizarre show of unity her children Jermaine, Janet and Rebbie stood close around the anxious 82-year-old as she read out a prepared statement at the luxury resort where she has been staying. Katherine seemed confused, calling her grandson Prince 'my nephew'". Another breakfast disappears in our mouth; $61! Only thing left is taking a shower and we're ready to go. Temperature is going up, both literally and figurally speaking. It's 28C and later this evening we'll be looking back on this day with a smile even Julia Roberts would be jealous of.
Imagine getting your daily hug from Vicky Vette, standing in a big crowd and suddenly looking to your right and see Julia Ann! It's what happend to us, your reporter and Kisha. The world shrinks whenever Julia walks in. Wow. Even though not feeling 100%, she and her just appointed assistant Gina have entered the building. Members Kisha and Barb are losing it, which is our cue to get some refreshments. In the meantime you can buy the most extravagant toys on the left and get a tattoo on the right. It's good to mesmerize the aisle(s) to avoid. From a positive point of view, there's also Austin White, Lily Figuera, Tracey Sweet and Nicole Aniston.
Next to the VNA booth Francesca and Carmen are wrestling under the leadership of both Chief of Staff rokkerr and Mike. Bobbi and Puma are licking (and selling) their pussies, Connie helps out at Vicky's stand, while Julia draws even more people to the booth than the other 8 were already doing. Couple of minutes earlier we noticed former VNA babe Sunny Lane in the middle of the Center, taking pictures in front of a white Cadillac. Now she's also visiting her Army friends and taking the time to show herself on cam, which obviously makes some guys at home go totally insane and wish they were here right now. She still fits the VNA profile and will always be welcome if she decides to make a comeback. Later, more stars. It's the famous Tanya Tate, babe with Liverpudlian accent, that we're lucky enough to see and talk to. "It's Tanya Tate. It's Tanya Tate. Oh my God, can you believe this? It's Tanya Tate!", Kisha repeatedly said. No binoculars are needed to spot Phoenix Marie as well, more on her tomorrow cause there's breaking news coming in; Barb, Gert-Jan and Kisha are escorting AVN Milf Of The Year Julia Ann to an exclusive fundraiser! The next highlight is about to start.
Julia's assistant Gina is picking everyone up in downtown LA, a labyrinth even for those who live here and thus a free sightseeing tour is included. "Vice is Nice, hosted by Kelly Holland and Rancho Providencia, raises money and awareness to help animals in dire need of a home and medical services." Chatsworth. There's valet parking, approximately around 150 cars and with the limo shuttle service we're being taken to the event. Getting in and out of that 'limo' takes longer than the actual drive to the main entrance. This must be how Angelina Jolie & Brad Pitt feel like each time they jump in a limousine, drive around the corner and get out after barely sitting 20 seconds, to walk on the red carpet of the Academy Awards …
Inside it's like a dream that's no dream at all. Gambling, music, dancing, food, beverages and many stars. In the air and around. Wicked, Vivid, Girlfriend Films. Marco Banderas, Sarah Shevon, ("Oh my God, it's..") Tanya Tate, Sunny Lane, Jessie Volt, Chastity Lynn, Dan O'Connoll, India Summer, James Avalon and the list goes on and on. A chat here, a drink there, picture with him, introduction to her, this evening is better than all three members could imagine. Julia has to shoot early next morning, so at 11pm an arranged taxi ($81) takes the News Magazine back to its hotel. Good night VNA, sweet dreams.
Happy Sunday! Last day of the convention and last Olympics for Michael Phelps. Oops! … he did it again. Gold medal for the American swimmer, who's now World's Greatest. Temperature is the same and the VNA booth still has the most traffic. More than the Asian girls who dance on DJ Vtech's music. One girl is enthusiastically moving her arms and legs, next to her a cute girl with pink panties that's totally the opposite and seems to be hearing a ballad instead of Pitbull. While Mike wrestles with Fran and Carmen (or maybe it's the other way around) Vicky, Marq and Gabby are bouncing around on the loud urban beats. When getting another bag of chips (no 'Vicky's Workout Program' for today) the concession stand lady looks as if several women have placed their lipstick-covered-lips onto our cheeks. The main reason for her odd look: "Alone? Where's that girl you were with the other days?" Time to pay Phoenix Marie a visit. The 30-year old is Naughty America's main attraction for their first Adultcon appearance. We're only able to talk 1.42 minutes as it's hard to stay focused when, two steps to the right on a large television screen, Phoenix is performing one of her best magic tricks. Two large cocks in plain sight, next moment they both have disappeared. David Blaine and David Copperfield may be good, but naughty American woman Marie sure knows how to impress men. Adultcon has come to an end. But the fun will continue, exclusively for VNA girls/members/guests at Saddleranch on Sunset Boulevard.
Being in a car with Walt, Fused, Angelina and Carmen is guaranteed excitement. Carmen has been wrestling her ass off these past few days and when she suggests to give her a massage there's no reason to say no. Ten minutes later, Angelina withdraws money from an ATM. Nothing spectacular there, but just read this. She's doing that with her breasts uncovered! Carmen doesn't hesitate to take her phone, filming it and spreading the hot stuff. Saddleranch is packed full and your reporter gets a sudden urge to check the fire prevention checklist. Fire exists posted and clear? No. Exit signs illuminated? No. Are extinguishers clear of any obstruction? No. If something really bad happens tonight, the outcome will be catastrophic. Sara, Carmen, Vicky, Walt, Angelina, ride the bull. Nikki Benz and her new man, who has Mario Lopez muscles, join. Puma Swede seems to be reliving her teenage years. Poking good friend Bobbi in the eye, throwing cotton candy around, whispering in the ear of her new boyfriend. And yes, he whispers back. High School Musical 4?
Happy Monday! Only 6 hours of sleep and the news doesn't contribute to the mood either. Big story on the violent protests in Anaheim after police officers shot Manuel Diaz in the back of his head. "Ever since that fatal night, riots and protests have broken out in the city of Anaheim. It is the same city which Disneyland resides. There have been pictures of people surrounding police cars and giving them the middle finger, of cops having to tackle protestors in order to subdue them, and other countless acts where government officials had to endure and stop aggressive tactics of protestors possibly inflicting harm". Meanwhile, Jeremy Renner tells the ABC viewers why they should go and see The Bourne Legacy: "It's a fantastic movie, I'm sure you'll love it". So much for depth interviews. That evening the trip to LA ends with Steel Panther live. European Head Mistress Bobbi Eden announced during one of her weekly camshows (Tuesday 5pm est) that she would arrange that. House Of Blues, again on Sunset Boulevard. Michael Starr, Satchel, Lexxi Foxxx and Stix Zadinia rock into the night with 'Asian Hooker', 'Shocker', 'Just Like Tiger Woords', Bon Jovi cover 'Livin On A Prayer' and many more tracks. If you don't know these guys yet and you're not afraid of some good rock music combined with sexual lyrics and hot girls that gladly show you their boobs, check them out now! One hour and six minutes later, outside on the parking lot, we thank both Edens for this awesome ending of a fabulous weekend. Mexican taxi driver Alejandro takes the tired VNA News Magazine crew and Fused back to downtown LA; $70. It seems Alejandro's 'I-love-to-ramble-on-and-on-just-don't-watch-my-meter-go-up-and-up-too-fast-stragegy worked?!
Happy Tuesday! Time to fly back to Holland. Quick round up. Did Gabby Quinteros and Fused do things you should know about? Fused was probably just looking how Gabby changed her clothes. Did Puma "fuck the brains outta Walt"? Definitely not. Puma seemed happy with her new boyfriend and Walt was too busy entertaining other ladies. Mike and Connie? Yes, something happend. Next March Los Angeles will host another Adultcon. Lots of VNA girls are present. What about you? Do you want to experience a supercalifragilisticexpialidocious weekend?
The VNA at Adult Con
Just to finish off out look back at Adult Con we have a couple of Collage's of the Ladies and Members.