Francesca's Site got a Facelift!
OMG what a hot looking site!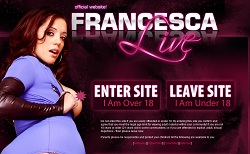 So now that Julia's site is about done also, that means that 8 out of 12 of all of our sites have been professionally redone! No more amateur sites for us! It's time to take  it to the next level! Carmen Valentina's site will be next! She has some great ideas and I think it's gonna be blazing!
In the meantime check out Fran's new site!